Welcome, I am Edmond (Mohamed Gad) an Egyptian artist.
Graduate of sociology and psychology studies.
So you will find me interested in different cultures and peoples' knowledge
I am also very interested in technology
I studied programming in an advanced time, starting with M S D O S and Visual Basic
But that was very long ago who remember these languages ​​now, except for very specialists, that make me work for a not short time as an expert in devices and computer technician.
But I am still continuing until now I have studied Android Studio and have some technical certificates from Google
But art and marketing was my passion
So I worked for a long time as a professional photographer and I have a studio serving commercial companies.
Also, I am still working on producing and designing my own products.
Including works of art, sculptures, furniture, and some devices , games.
And I work to combine it with technology to add distinction and joy to my valued customers.
I love makeup, acting and embodying different personalities How beautiful it is for a person to get out of himself and then return to it. It is a very rich experience .. We humans are very distinct. Each of us lives on his own planet and has special experiences that you can only understand through trying it yourself.
For this reason, I am also very interested in makeup, and you will find many different pictures for me.
You might really ask who this person is.
I hope you enjoy your visit to my site ….
And I promise you very important things:
You will get a very good product from me. I express my thanks and gratitude to you through the quality.
– Every product I have is a case of love, emotions and passion .. I hope that this energy will transfer to you from love and make your life very bright.
I look at you
Thank you for getting to this part
Greetings and love
Edmond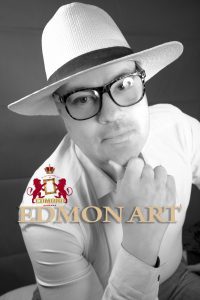 EDMON PRODUCT's & DESIGNS
My Tool's